The Priorities Section of Pulse Check™ Reports is designed to help your leadership team prioritize feedback with a quick glance.
STEP 1: Log in to Possip https://www.weeklypossip.com/.
STEP 2: Click "View Reports."
STEP 3: Select the Report you'd like to view, and scroll down to the Priorities Section.

When assigning priorities, Possip's reporting team–which is primarily comprised of current and former educators–takes into account topics and their frequency.
Priorities will either indicate what our reporting team suggests for Follow Up or highlight a Trend in your report. You can click on the bolded titles to jump directly to the recommended Follow Up or Trend.
Any comment recommended for Follow-Up is labeled as HOT, which means the recommended follow up time is one day to one week.

You can begin following up on comments directly from the Pulse Check™ Report by using the "Email" or "Copy" buttons. Clicking "email" automatically populates an email with a comment, so you can delegate follow-up or reference the comment in a reply to the contact. The copy button copies the comment to your clipboard, so you can easily paste it into a Report Reading Team agenda or another document.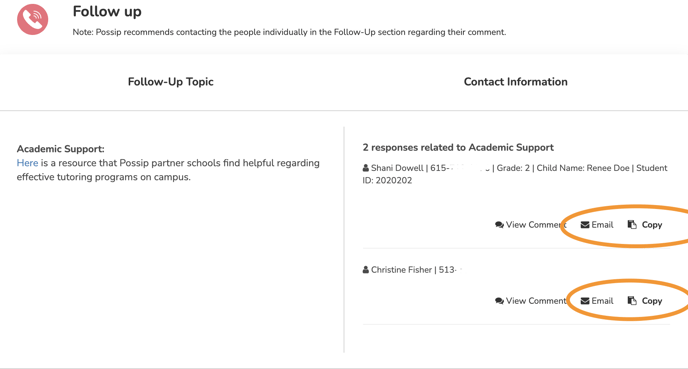 Understanding Priorities labeled as Medium or Cool in the Trends & Recommendations Section:
If a priority is labeled as MEDIUM, or COOL, it will only appear in the Trends & Recommendations section of the report. There's no suggested follow up to a specific contact, however, it's labeled as such because the trend itself might warrant a specific level of urgency.