Your team will have all the contact information and context needed for follow-up in one simple section of the report.
The Follow-up Section of the report helps you easily see comments flagged for follow up action. When assigning comments for follow up, Possip's reporting team–which is primarily comprised of current and former educators–takes into account the comments and their urgency.
Follow-Up Topics are consolidated into sections so you can easily send all necessary details to someone specific on your team for handling follow-up or resolution, for example the colleague who will address Academic Support, or Transportation, or Enrollment Questions.
Overtime, you can learn the number of comments related to each Follow-Up Topics and how those topics changed throughout the year.
Any comment recommended for direct follow up will appear in this section, alongside contact information. Pro Tip: You can begin following up on comments directly from the Pulse Check™ Report by using the "Email" or "Copy" buttons.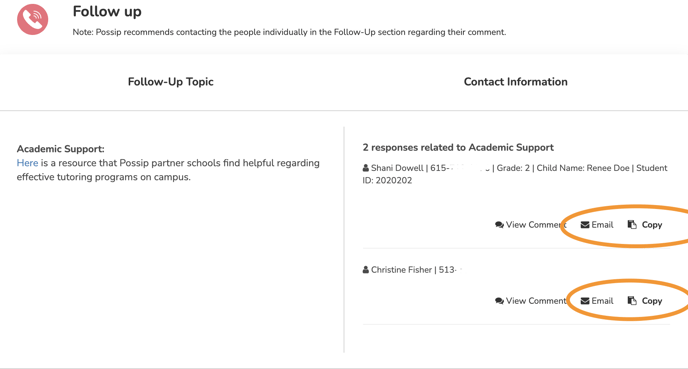 Clicking "email" automatically populates an email with a comment, so you can delegate follow-up or reference the comment in a reply to a parent. The copy button copies the comment to your clipboard, so you can easily paste it into a Report Reading Team agenda or another document.
Check out your latest report!
STEP 1: Log in to Possip https://www.weeklypossip.com/.
STEP 2: Click "View Reports."
STEP 3: Select the Report you'd like to view, and scroll down to the Follow-up Section.