Easily access links to your web-based Pulse Check™ and a contact registration.
Possip gives you accessible Pulse Check™ links and information!
Your settings page has even more information in it! Here's an overview of what's included in the section called "Pulse Check Links & Information."
Link to Web-based Pulse Checks™: You can share the web-based Pulse Check™ link with contacts at anytime. There are direct links for your Pulse Check™ in English, Spanish and Arabic on this page.
Bitly Link for web-based Pulse Checks™: The Bitly link directs to your English web-based Pulse Check™. The link URL is a shortened and friendly format that's convenient to share.
Link for New Contact: This link will enable new contacts to sign up for Pulse Checks™. It might be helpful to include this as part of your enrollment or onboarding process.

STEP 1: Log in to https://www.weeklypossip.com/
STEP 2: Click on Settings.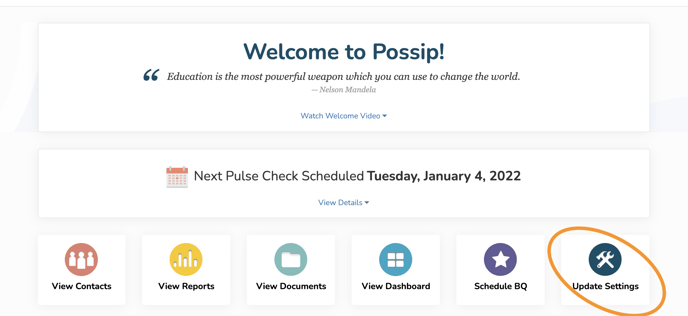 Please Note: If you're an admin with district/network access to all schools or accounts, to access a specific school's links, click on "View Schools" then select a specific school and their settings page.
STEP 3: Copy and paste a link into relevant materials for parents, staff, or students.



Need a link to the Pulse Check™ in another language? Let us know by emailing support@possip.com.