The Sentiment Graph measures how people's sentiment toward your organization is changing over time, and if their expectations are being met.
STEP 1: Log in to https://www.weeklypossip.com/login.
STEP 2: Select "Reports" and click on your most recent report.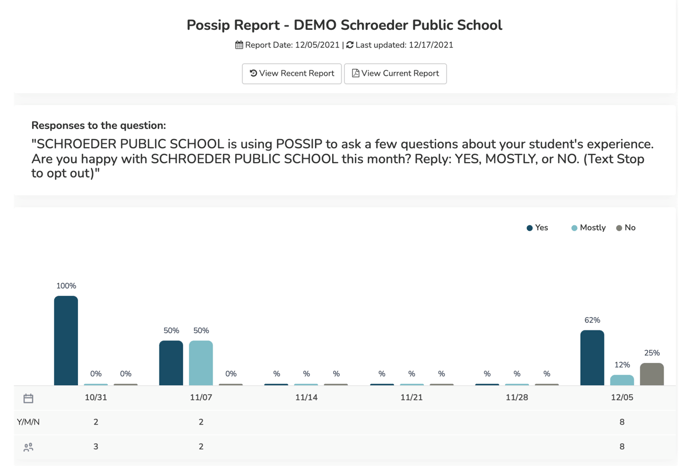 Here's an explanation of the icons below the Sentiment Graph:
Calendar icon: reflects a weekly calendar, displaying when your Pulse Checks™ were on and off and the breakdown of Yes/Mostly/No responses each week.
Y/M/N: reflects the number of responders who answered the Sentiment Question.
People icon: Represents approximately the number of responses you received.
When you click on the percentages above the bars, you will be directed to a list of responders who answered yes, mostly, or no. In the example above, if you wanted to see who answered yes on 12/5, you would click on the 62% value.
To view the Sentiment Graph in your School Dashboard:
STEP 1: Log in to https://www.weeklypossip.com/login.
STEP 2: Click on "View Dashboard." Once you do that, your "School Dashboard" will open.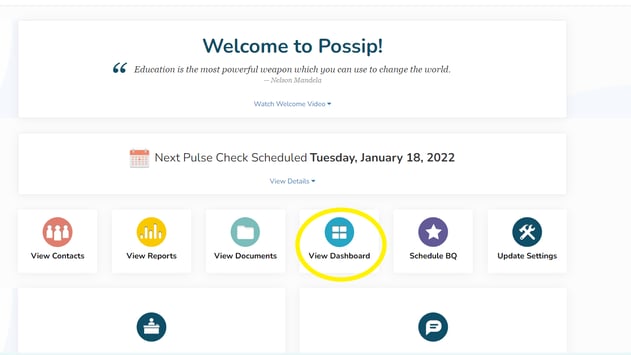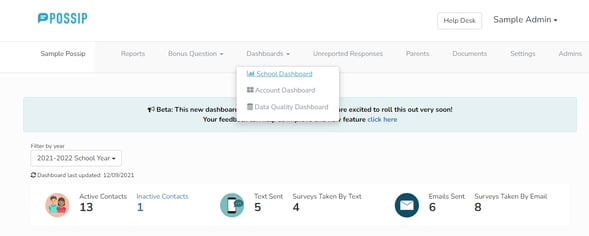 STEP 3: Next, scroll down to view your Sentiment Score™ and your percentages of Y/M/N answers.