Let families know about Pulse Checks™ through a simple letter.
Giving families information on Possip before Pulse Checks™ can increase their participation.
We encourage sharing a note as simple as:
"Parents, your voice matters! We need to hear what's working for you and what your family needs. This year we will send routine text messages and emails with a few simple questions asking for feedback on your experience with school. You will receive these messages from Possip, an organization we have partnered with to learn your needs. Thank you!"
Additionally, these multilingual letters explain how Possip works and how it strengthens schools. Share them with your parents and families.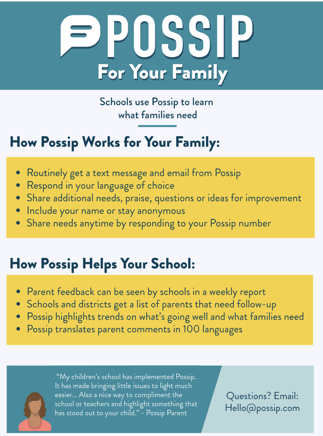 Need a letter translated in another language? Email support@possip.com.
Click on one of the languages listed to access this letter in another language: