How School Admins can review and manage their Pulse Check™ frequency.
Please Note: If you are a District Admin and wish to review or update a school's Pulse Check™ frequency, please contact us!
STEP 1: Log in to Possip at https://www.weeklypossip.com/login and locate the "Update Settings" icon to go to your settings page.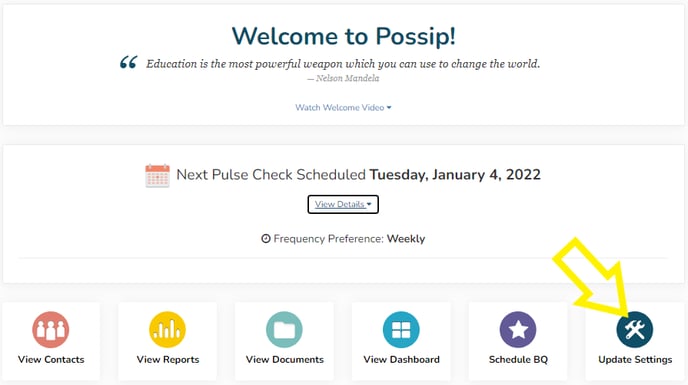 STEP 2: Scroll to the bottom of the page to review your Pulse Check™ Settings section.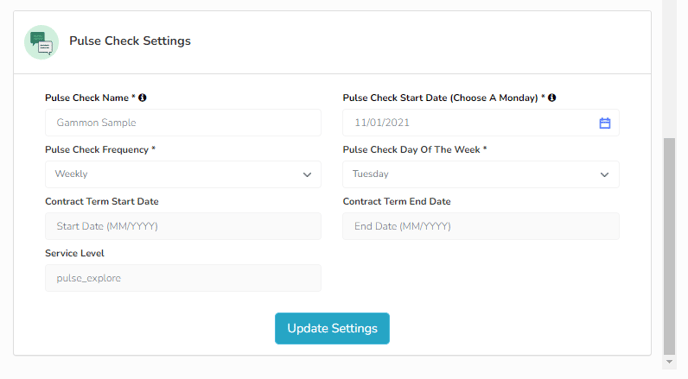 Pulse Check™ Settings are details on how and when you want to send Pulse Checks™:
Pulse Check™ Name is the shorthand name of your school or staff account as it will appear on a text to parents or staff.
Frequency is determined by your agreement with Possip, but if you ever want to send less or more frequently, you have that option.
Pulse Check™ Day of the Week can be Tuesday-Friday, and we'll always send on that day unless you request differently.
Only users with a School Admin role can view or make updates.
After you've made your updates, click the "Update Settings" button.
Please note:
If you are unable to adjust the Pulse Check™ Start Date or Day of the Week, it is because that setting is being controlled by your district or network.
If you would like to add temporary holds to your Pulse Checks™ or talk with us about your cadence, please contact us at the email below.