360 Scripts™ after each Pulse Check™ make it easy to share trends with your stakeholders.
Possip's 360 Scripts™ are written for schools after each Pulse Check™. They help principals and administrators easily communicate report results with families or staff through a newsletter or robocall. 360 Scripts™ summarize trends with language that is simple, anonymized, and meant to disperse widely.
360 Scripts™ include these elements:
# of people who have provided feedback over the course of the school year
% of people who responded they were happy or mostly happy during the week's Pulse Check™ (Note: We've updated this to reflect a % as of January 27)
Praise or feedback trends - If no trends were present that week, the 360 Script™ encourages folks to send in praise, appreciation, and feedback in the next Pulse Check™
A brief statement on how feedback and ideas are used, so parents know what to expect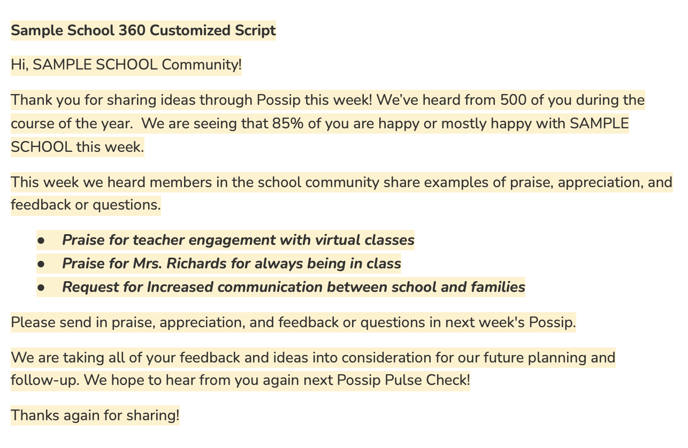 Note: You will only notice 360 Scripts™ dated January 24, 2021 or later. If needed, 360 Communication Scripts™ created before the 24th can be found in your Documents tab.