Easily export results from your Staff Pulse Check™ straight to your email.
Need instructions for exporting the District Report as a CSV? Read this Help Article.
Exporting the staff Pulse Check™ Report as a CSV.
STEP 1: Log in to https://www.weeklypossip.com/login and select "reports."
STEP 2: Click the "export CSV" button next to the Pulse Check™ Report you'd like to download.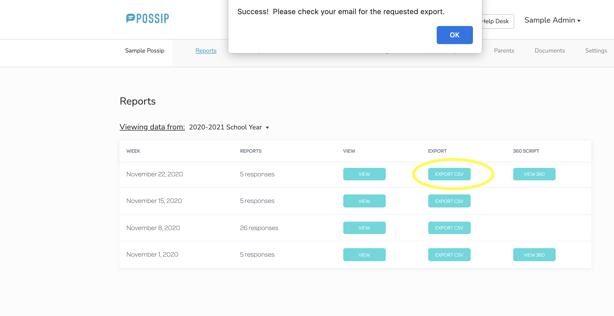 STEP 3: Check your inbox for an email with your CSV export.
Don't see your CSV export? It will send a file directly to your email. If you do not see it after refreshing, make sure to check your spam or junk folder.
The CSV Export Headers:
The first part of the export includes columns that are also featured in the schools export. You can hide irrelevant columns in Google Sheets and Excel.
Headers are:
School Name | Campus Name | Department | District Name | School Type | School Level | Title I Eligible | Contact First Name | Contact Last Name | Phone Number | Phone Type | Email | Language | Student Names | Student IDs

If a respondent decided to comment anonymously, you will not see their name or contact information in the export. Want advice for responding to anonymous feedback? Check out this Help Article.
The second part of the export includes student grade data. Since you're exporting for staff, we recommend hiding these columns in Google Sheets or Excel since they do not apply.

The third part of the export includes Pulse Check™ responses.
You will be able to see if a staff member decided to share their name or not, you'll see when their response was created, how they answered the
sentiment question
, any translations, responses to
Bonus Questions™
if there was one asked, any praise or feedback.